Motorcycle roadside assistance coverage you can count on.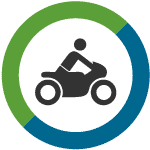 Best Roadside offers the very best in motorcycle roadside assistance. Did you know our
Individual
and
Vehicle Plans
cover any street legal motorcycle or scooter as well? Whether your bike is your main method of transportation, or just one of the vehicles you or your family use, we have a plan to fit your motorcycle roadside assistance needs. 
Join Today and Save $10!
All the below services are offered starting at *$65 per year – that's less than $5.50 a month!
Motorcycle Roadside Assistance Plan Benefits Overview
All of our emergency roadside assistance plans at Best Roadside Service include the following benefits, 24 hours a day, 7 days a week, no matter where you are in the United States or Canada.
Emergency Toll Free Phone Number: Your direct roadside emergency phone number is provided via email upon approved membership. Our customer service specialists are available 24 hours per day, 365 days per year.
24 Hour Emergency Towing Service: Should your motorcycle be mechanically disabled while traveling, your motorcycle will be towed by flatbed to the nearest repair facility, up to 75 miles. Only one tow per disablement.
24 Hour Battery Jumpstart Assistance: If you are unable to get your motorcycle started, a maintenance person will be sent to provide a battery jump start. This service is for batteries that have lost their charge and simply need a battery boost. It does not cover repair or service of faulty or worn out batteries.
24 Hour Flat Tire Repair Service: Should your motorcycle have a flat tire, we will send a service provider with a flatbed to tow your vehicle to the nearest tire repair facility in order to get you back on the road.
24 Hour Lost Key Service: If you lose your key, we will allow up to a $100 reimbursement for a temporary key to be made.
24 Hour Fuel Delivery: If you should run out of gasoline, a service technician will deliver fuel to get you on your way. Your membership includes 3 gallons of fuel delivered to you free of charge.
24 Hour Winching/Extrication: Your membership entitles you up to $50.00 maximum benefit to be used if your vehicle needs to be extracted/winched out. Vehicle must not be more than 15 feet from a regularly maintained roadway.
24 Hour Oil, Fluid, and Water Delivery Service: An emergency supply of fuel, oil, fluid and water will be delivered if the disabled vehicle is in immediate need. The member is responsible for the cost of the fluids.
24 Hour Emergency Personal Assistance: During any weather related or roadside emergency, our customer service staff can relay messages to loved ones and receive messages for you, helping you to put your mind at ease.
24 Hour Trip and Routing Service: Your membership includes customized trip planning and routing services. We can not only help you get where you want to go, but reach your destination safely and efficiently. If you ever get lost, just call our emergency roadside assistance hotline and we can give you turn-by-turn directions, 24 hours a day, 365 days a year.
24 Hour Concierge Service: When you are traveling, it can be difficult to manage car rental service or book a hotel room. We offer 24 hour concierge service and make sure that all hotel and rent-a-car arrangements are made in time. Whatever your travel needs, you can call on us to help.
VIP Discounts for Travel, Car Rentals and Hotels: Save on travel arrangements and trips! We offer discount programs and competitive travel discounts for our members. We also offer daily discount packages for vacations and cruises as well as automotive discounts. Click here for more details
6 Service Calls per Year: A total of 6 service calls per year are allowed per motorcycle under the vehicle plan.
Standard Service Limitations apply to all plans. Click here to view Terms and Conditions.
*Single Vehicle Plans start at $65.
Become a Member Today and Save $10!