We offer a variety of roadside assistance plans to fit your unique needs.
At Best Roadside Service we offer two different types of roadside assistance plans to fit the individual needs of you and your household. Whether you have multiple people sharing one or more vehicles, or you need coverage no matter what vehicle you're in, we have a plan for you. Our roadside assistance plans cover cars, trucks, SUVs, vans – most vehicles up to 12,500 lbs including motorcycles and scooters!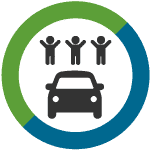 Vehicle Plans | Single Vehicle $75 $65
Vehicle Roadside Assistance Plans follow the vehicle, regardless of who is driving, making it the perfect choice for vehicles with multiple drivers. Get coverage for less than $6 a month! Join Today and Save $10!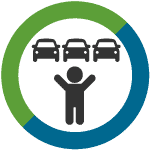 Individual Plans | Starting at $99.95 $89.95
Our Individual Roadside Assistance Plans follow the member, no matter what vehicle they're in, even if they are not driving. Add additional family members at a discounted rate. Get coverage for less than $8 a month! Join Today and Save $10!
How do I choose a roadside assistance plan?
Vehicle Plans |This plan is perfect if you only own one vehicle and you're the primary driver, or if you have multiple vehicles in your household with more drivers than vehicles. For example, if you have 2 cars with 3 drivers this would be the plan for you. Choosing our Vehicle Roadside Assistance Plan is the most cost effective way to ensure your vehicle is covered no matter who is driving it.
Individual Plans | This plan is best if you want coverage in any vehicle you might be riding or driving in, or if you have more vehicles than drivers. For example, if you have an additional car you don't drive all the time, or if you're not always the driver this would be the plan for you. Choosing the Individual Roadside Assistance Plan based on the total number of household members will ensure you're all covered no matter what vehicle you're in.
Complete Customer Satisfaction
All calls answered in the United States – when you call our 24/7 emergency service number, you will never be transferred overseas and you will never get a voicemail.
Get back on the road, fast. We maintain an average 34 minute response time nationwide from when you call the dispatch center to when help arrives.
All customer service professionals have a minimum of 3 years of experience.
We support English, Spanish and French speaking customers.
24/7 Service. We know that roadside emergencies and inconveniences like flat tires and dead batteries don't care what time it is, so neither do we. Our services are available 24 hours per day, 365 days a year. Holiday or not, rain or shine, you can count on Best Roadside Service.
We care about and respect your right to privacy! We never use your address or email to send you junk or share your personal information. Complete details in our privacy policy.

Plan Benefits Overview
All of our emergency roadside assistance plans include the following benefits, 24 hours a day, 7 days a week, no matter where you are in the United States or Canada.
Emergency Toll Free Phone Number: Your direct roadside emergency phone number is provided via email upon approved membership. Our customer service specialists are available 24 hours per day, 365 days per year.
24 Hour Emergency Towing Service: Your plan includes a 24 Hour emergency tow service when your vehicle breaks down or if you are stranded on the road due to a mechanical issue. If you have the individual plan, our tow service will cover you in any vehicle you are driving or riding in. If you have the vehicle plan, our tow service will cover the vehicle or motorcycle regardless of who is driving. Towing is for roadside assistance emergencies only. The plan tows up to 75 miles, to the nearest repair facility. Service does not apply to previously disabled vehicles and there is only one tow per disablement.
24 Hour Battery Jumpstart Assistance: If your battery goes dead or fails, we will send a technician to jumpstart the covered vehicle.
24 Hour Flat Tire Repair Service:Best Roadside Service provides urgent roadside flat tire service for covered vehicles so you are never stranded by the side of the road. We send a technician to install a drivable spare on the vehicle and get you back on the road again. It is member's/vehicle owner's responsibility to have a properly inflated, working spare with their vehicle at all times. If the covered vehicle does not have a spare on-hand, we will tow the vehicle to a repair facility, up to the mileage limits of the subscriber's plan. *Note to owners of newer vehicles: many new vehicles do not come with a spare tire. If you are unsure if you have one, we encourage you to check and purchase a spare, if needed, to ensure you are protected in the event of a blowout or flat so you can get back on the road as quickly and easily as possible.
24 Hour Lockout Service: Should you get locked out of your vehicle, we will send a technician with manufacturer approved tools to get you back into your vehicle and on the road again.
24 Hour Lost Key Service: If you lose the keys to the covered vehicle, our Lost Key Service allows up to $100 reimbursement for the fabrication of a temporary key. This lost key service is only available for covered vehicles that have a key system that can be duplicated by a certified locksmith.
24 Hour Fuel Delivery: If your covered vehicle should run out of gasoline, we will dispatch a service technician to deliver fuel to get you back on the road again. Our 24 hour fuel delivery service includes 3 gallons of fuel delivered to you at no charge.
24 Hour Winching/Extrication: Your membership entitles you up to $50.00 maximum benefit to be used if your vehicle needs to be extracted/winched out. Vehicle must not be more than 15 feet from a regularly maintained roadway.
24 Hour Oil, Fluid, and Water Delivery Service. An emergency supply of fuel, oil, fluid and water will be delivered if the disabled vehicle is in immediate need. The member is responsible for the cost of the fluids.
24 Hour Emergency Personal Assistance: Our customer service and support team, based in the United States, is always here to assist you no matter what your vehicle or travel needs are. If you need messages relayed to loved ones during inclement weather or related roadside emergency, our staff will send and receive messages for you. We can make calls for you on your behalf and take the stress away from any roadside emergency. If you need us, we will be there for you, 24 hours a day, 365 days a year.
24 Hour Trip and Routing Service: Your membership includes customized trip planning and routing services. We can not only help you get where you want to go, but reach your destination safely and efficiently. If you ever get lost, just call our emergency roadside assistance hotline and we can give you turn-by-turn directions, 24 hours a day, 365 days a year.
24 Hour Concierge Service: When you are traveling, it can be difficult to manage car rental service or book a hotel room. We offer 24 hour concierge service and make sure that all hotel and rent-a-car arrangements are made in time. Whatever your travel needs, you can call on us to help.
VIP Discounts for Travel, Car Rentals and Hotels: Save on travel arrangements and trips! We offer discount programs and competitive travel discounts for our members. We also offer daily discount packages for vacations and cruises as well as automotive discounts. Click here for more details
Become a Member Today and Save $10!
Service Limitations, Membership Guidelines
and Terms & Conditions
Click here to view our Service Limitations and Membership Guidelines.
Click here to view our Terms and Conditions.