Providing you with the commercial, fleet roadside assistance plans your company needs.
Every day, hundreds of employee and company-owned fleet vehicles break down. Whether it's an engine issue, your driver ran out of gas, or an employee gets a flat tire while driving the company vehicle, it's a fact—your drivers and employees will have breakdowns. It's just a matter of when. Having a commercial or fleet roadside assistance plan can make all the difference in how a roadside emergency is handled.
Did you know we receive over 5,000 calls a day for vehicle breakdown issues just like yours?  We receive over 35,000 calls a week, 147,000 a month and 1.76 mm a year! And our average response time is just 34 minutes!
Choose from commercial roadside assistance plans that cover all of your vehicle breakdowns and gives your drivers and employees peace of mind, knowing they are covered if something happens while they are behind the wheel. From company sedan breakdowns to truck fleet roadside assistance, we'll cover your vehicles no matter who's driving them. Go with the commercial roadside company that has an A+ rating with the BBB.
It's simple—for one low price we will cover the vehicle for the year, regardless of who is driving. Don't go with plans that charge monthly service fees and leave you with a huge monthly bill. We include generous towing amounts and 6 service calls a year.
Get your drivers and employees back on the road in no time at all, while knowing they will appreciate your concern for them.
---
Coverage to meet your commercial and fleet vehicle needs.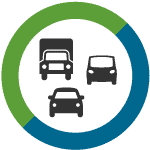 Best Roadside Service offers the most comprehensive, top quality emergency roadside assistance plans for commercial and fleet vehicles in the industry.
We have been doing this a long time and know that fleet and company vehicles break down. In fact, about 20% of typical fleets experience mechanical disablement every day.
Our service plans are designed first and foremost to provide rescue and support services to your drivers and staff when their company vehicle becomes disabled or stranded.
Whether your business has just a couple of vehicles or a few hundred, you want to know in the event of a roadside emergency that you, your staff and all your company drivers are protected.
We are your commercial and fleet roadside partner. Click below to send us your fleet list – whether it's 1 vehicle or 100.
More than just roadside service:
Our plans provide comprehensive 24/7 service
Coverage across all of the U.S. and Canada
We have over 45,000 service providers
National response time of 34 minutes
How can we provide such fast service? Our state-of-the-art software allows us to find your location using your cell phone, and dispatch our service providers while we're still on the phone with you. We even send a text message to confirm the estimated arrival time of your service provider.
Your drivers are never on the road alone. We will always be there for you, 24 hours a day, 7 days a week, 365 days a year.
Because our vehicle specific commercial roadside assistance plans cover the vehicle rather than the driver, this allows your company to assign any driver to any vehicle and still receive service at any time.
Here are just some of the types of companies and organizations we happily provide roadside service plans to:
Hospitals
Home Health Services
Ambulance Services
Schools
Non-profit Organizations
Colleges and Universities
Government Agencies
Insurance Agencies
City, State and Government Entities
Cities & City Service Departments
Townships
Counties
Camps
Churches and Synagogues
Home Care Businesses
Rental Car Companies
Driving Schools
Girl Scout/Boy Scout Groups
Childrens' Services Organizations
Emergency Services, Shelter and Outreach Groups
Animal Rescue Services
Tour Companies
Moving Companies
Banks & Credit Unions
Security Firms
Food Banks
Libraries
Home and Lawn Maintenance Companies
Religious Organizations
Medical Supply Companies
We cover all types of fleet & company vehicles
Our commercial roadside service covers vehicles large and small from mini coopers up to box trucks, including rental cars, construction and service vehicles.
We also cover light duty trailers up to 20 feet with flat tire service only, provided a driveable spare is located with the trailer at the time of service.
Coverage customized for your individual needs
Our commercial programs are customized for each business type and vehicle use. For the program best suited to your company's needs, please request a quote by following the below instructions.
If you're looking for GPS service to track your vehicles, know what your drivers are doing and provide useful data, just ask! We provide GPS services through industry leader FTS.
We know you care about your drivers and want peace of mind for them when they're on the road, and that's what they get when you have Best Roadside Service's Commercial Roadside Coverage.
Travel and automotive discounts
Commercial roadside assistance programs include access to our extensive selection of discounts and coupons for travel, car rentals, hotels and even automotive discounts. We also offer daily discount packages for vacations and cruises.
Request a quote today
Our commercial programs are unique to each business type and vehicle use. For the best suited program for your vehicles, we will need to receive a list of your company or fleet vehicles, including year, make, model, and mileage. There are some vehicles we do not cover including RV's, Class 5-8 trucks, large buses, taxis or limousines.
Click here to email us your fleet list to get a quote!
Or email your fleet list directly to: info@bestroadside.com.
After confirming the type of vehicles you would like covered, we can provide you with a low rate quote and volume discount. Most company/commercial prices range from $79 to $129 per vehicle. Heavy duty vehicles range from $139-$199.
We will contact you shortly after reviewing your fleet vehicle list.
Looking for information on our Affiliate and Partner Programs? Check out our programs here.