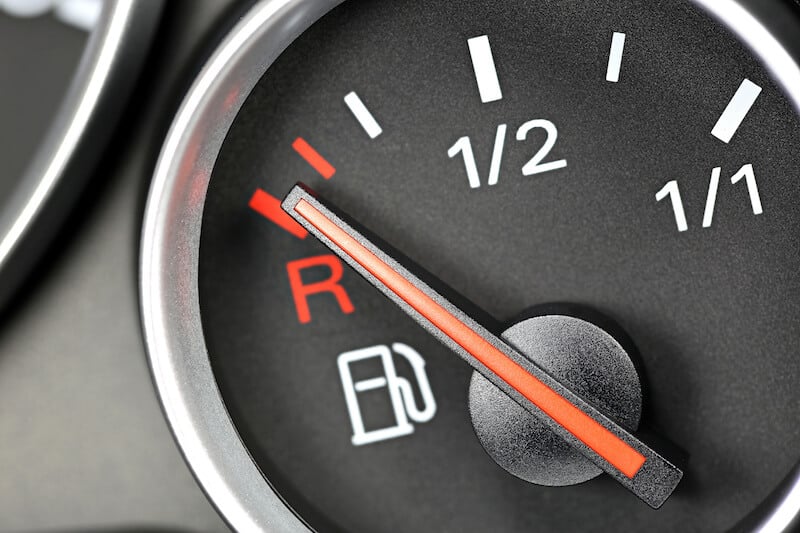 Many of us continue to drive after the low fuel light comes on even though we shouldn't.  Whether it's the price of gas, inconvenience, or just procrastination, some of us wait until the last minute to fill up the tank. Waiting until your gas tank is empty to fill it up could end up costing you far more than the tank of gas though.
A 2015 survey found that every year, more than 827,000 drivers ignore their vehicle's low fuel warning light and run out of gas. Additionally, 25% of all drivers believe they can make it another 40 miles once the light turns on. The problem? Most driver have no idea how far they will actually make it once the warning light comes on. According to experts, driving around on empty (or almost empty) is a foolish idea. Fuel gauges are not always accurate, and accuracy can vary based on a number of factors including your driving style and your car's fuel economy. Experts warn motorists to use a fuel gauge as an estimate – rather than an exact measurement – of how far they can make it before running out of fuel.
Running out of fuel isn't the only concern with driving on empty. In fact, there's more at stake than many people realize when you let your gas tank run that low. Allowing the level of gas in the tank to run low can damage your car. According to YourMechanic.com, "if you do run out of gas, you can do damage to your catalytic converter, which may then need to be repaired or replaced." Additionally, the gas in your car functions as a coolant for the fuel-pump. When the fuel runs low, heat can cause permanent damage and/or failure of the fuel pump.
Mechanical breakdowns resulting from consistently driving on an empty tank or running out of fuel can lead to dangerous situations. If your car suddenly stops running, you could be stranded in a deserted area, or in the middle of a busy highway. Moreover, with many cars, airbags do not deploy when the engine is not running, putting you, and any passengers, in an even more dangerous situation. To avoid situations like this you should always keep at least a ¼ tank of fuel in your car.
Even when we know we shouldn't do something, most of us will do it sometimes. Purchasing roadside assistance coverage insures that if your vehicle suffers a breakdown or runs out of fuel you are protected. Coverage includes emergency towing service in the event of breakdown and delivery of up to 3 gallons of fuel (gas is free!). Plans provide 24/7/365 coverage anywhere in the USA and Canada. Additional services including battery jumpstart service, lock-out services and emergency personal assistance such as access to trip and routing services and a 24-Hour 800 hotline are also included. Finally, depending on your needs you can choose from vehicles plans which follow the vehicle, regardless of who is driving (the perfect choice for vehicles with multiple drivers), or individual plans which follow the member, no matter what vehicle they're in (even if they are not driving).
While most of us want to keep our vehicles in good shape, and know that keeping our fuel tanks off empty is part of good vehicle maintenance, the fact is life gets in the way. We don't always have the time, patience, or desire to stop for gas. Purchase roadside assistance coverage to protect you in the event your empty tank leaves you on the side of the road.