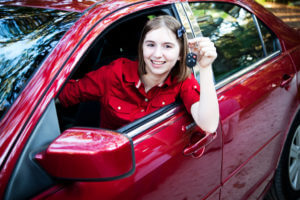 Does your family have a new driver?  Before handing them your car keys, be sure to have all of the information you need on what all the legal requirements are for new drivers that must be met before obtaining their first driver's license.  From getting a driver's permit to obtaining auto insurance for a young driver, there is so much that your teenager needs to become familiar with before he or she gets behind the wheel and starts driving.
The Learner's Permit
Most states require that new teen drivers, in particular, obtain a learner's permit.  The specific age at which a teenager can receive a learner's permit does vary from one state to the next; however, the minimum age for getting a learner's permit in most states is 15 years old.  Obtaining a learner's permit and passing the classroom part of driver's education go hand in hand.  After your teenager has finished the class, then they can take the written test.  After passing the written test and obtaining a learner's permit certificate, your son or daughter can then apply at your local DMV office to get their learner's permit.
Keep in mind that obtaining a learner's permit is only the first step in a long process of obtaining a driver's license.  In many states, a teenage driver is required to have their learner's permit for as long as 6 to 12 months before they are allowed to get their driver's license.
Supervised Driving Times
Each state will have its requirements that teen drivers have to meet, but once the learner's permit is obtained, a majority of states require that your teenager achieves a certain amount of supervised driving hours.  Supervised driving is designed to help teens feel more comfortable driving on the roads as well as improve how knowledgeable they are of the various roadway laws.
Applying For A Driver's License
Once a learner's permit has been obtained, and enough time has been put behind the wheel, then a teenager can finally apply to get a driver's license.  Many states, however, have instituted a provisional license program that limits how much access teenagers have to the roads, or there are other restrictions placed on young drivers, like passenger restrictions and nighttime driving.  New drivers may also be required to perform a road test.  Make sure that you check with the local DMV office to find out what is required for your teenager.
Obtaining Insurance
It is of particular importance to have the right car insurance if you have an inexperienced or young driver as a member of your household.  Make sure that you remember to add your teenager to your insurance just as soon as she or he gets her license.  Also, any vehicles that your teenagers might be driving will need to be added to your insurance policy to ensure coverage.  Speak with your auto insurance company to make sure that your vehicles and teenager are covered.
Roadside Assistance
New young drivers, like to enjoy their new found freedom perhaps a little too much.  Make sure you have roadside assistance coverage from Best Roadside Service for your teenager's vehicle to make sure they are safe and taken care of in the event of a breakdown.