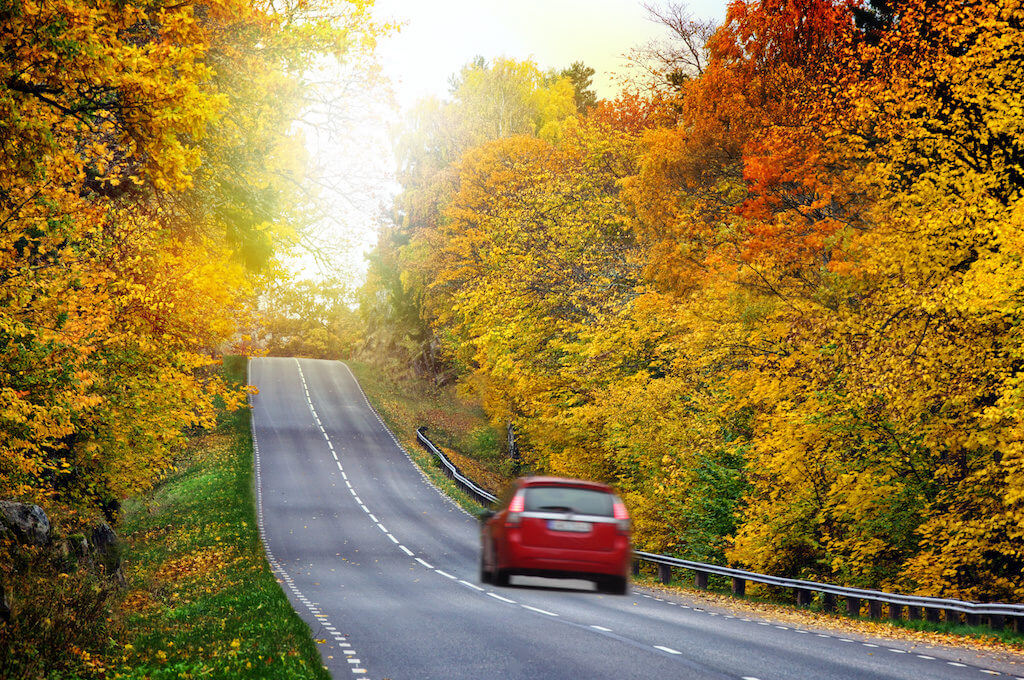 Pumpkin-themed foods and back to school are in, and summer is officially coming to an end.  Pretty soon the weather will be going from the comfortable post-summer season to a more icky and brisk one.  During the fall months being a safe driver requires more discipline and attention.  However, first, your car needs a little TLC.
10 Tips For Preparing Your Car For Autumn's Falling Leaves and Cold Winds:
Check the tires and brakes: 
Your vehicle needs enough stopping power to deal with the inclement weather and the road conditions as well as other hazards associated with fall and winter.  That means having good tires and brakes.  If wear bars are showing on your tires, they need replacing. Most reliable tire and brake shops will inspect your tires and brakes free of charge. Your summer tires need to be changed over to all season tires since the sportier summer ones might only work well on slightly chilled roads.  The tire pressure also needs to be checked, since the tire pressure will go down when the temperature drops.  Keep the pressure of your tires at the level that your vehicle manufacturer recommends.
Check the lights on your car:      
Walk around the exterior of your vehicle and check out all of the lamps: emergency flashers, brake lights, parking lights, taillights, and headlights. Replace any bulbs damaged or non-functioning lights.  Also, make sure all of the lights are clean.  You might want to buy halogen lamps for safer driving and improved visibility if you have an older car with sealed-beam headlamps.
Check and Replace your wiper blades: 
The job of your car's wiper blades is to clear the windshield completely.  Worn or cracked edges will not do a good enough job.  Check the rubber on the blades to make sure they are flexible and then turn on the wipers to ensure your blades clean the glass.  Replace any blades that are worn.
Make sure the defroster and heater work: 
It isn't safe or fun to drive with a car heater that isn't functioning properly.  Trying to drive with fogged-up windows is an accident waiting to happen.  Make sure to check your rear and front window defrosters to ensure they are working properly.  Have your defroster and heater systems repaired, if necessary.
Have your car battery checked: 
A fully charged battery is required to start your vehicle during cold weather.  Have a trained technician inspect your charging system and battery.  If necessary, have them replaced.  If the battery cable ends or terminals have any signs of corrosion or there are any loose connections, then your battery needs some care.  A majority of auto parts stores like O'Reilly's Auto Parts and AutoZone will diagnose your battery issues and test it for free!
Check under the hood of your car:   
Checking under the hood lets you identify any clear signs of wear as well as components that need to be fixed or replaced. Check for loose clamps, cracks, and leaks in your car's cooling system.  Also, squeeze the hoses.  Replace any that feel brittle or spongy.  Check the underside of your vehicle's drive belts to see if there is any fraying.  Replace them as needed.  If you have engine problems like sputtering or other noises coming from the motor, get a licensed mechanic to inspect the engine thoroughly and have any repairs made that are necessary.
Change air and oil filters: 
If it is time to replace the oil or the oil in your car is dirty, then you should have the oil changed. Check your air filter also to make sure it is clean enough to operate your vehicle properly.  If you are unable to see the light through the filter when it is held up to a 60-watt bulb, then it needs to be replaced.
Refill cooling system:
Experts recommend checking the coolant level inside of the overflow tank when the engine in your car is cold.  Add a 50/50 solution of coolant and water if the level is low for the appropriate antifreeze capabilities.  The cooling system might need periodic replacing.
Check all of your car's fluid levels: 
That includes power steering, brake, transmission and washer fluids.  Make sure all of them are above or at the minimum safe levels, and then refill any of them as needed.
Have your car washed and detailed: 
It might sound strange, but getting your car all spiffy by giving it a thorough cleaning can make it easier to find potential problems.
Preparing for the new season is just half the battle.  You must also pay careful attention to driving conditions.  Additionally, even a well-maintained vehicle can experience an occasional breakdown. Flat tires, mechanical failures, lockouts, lost keys, and accidents can happen no matter how old, or new, your car is. Emergency roadside assistance plans can eliminate costly tows and cover expenses for lost keys or lockouts, running out of gas, and dead batteries. Purchasing a plan through Best Roadside Service includes benefits such as fluid top offs, fuel delivery, flat tire service, and lost key and lockout service. Additionally, with a quick call to an emergency hotline all your service provider needs can be located in one place, and with the right plan, fast response times will eliminate wait time. One call to Best Roadside Service will have help on the way quickly with an average response time of just 34 minutes.