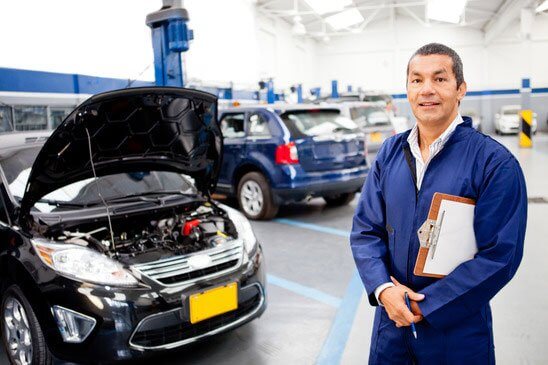 Cars used to be made to last. Nowadays it seems like the second the warranty expires so does the car. While your vehicle won't last forever, it can still have a good long life if properly maintained. Regular preventative maintenance is crucial to keeping your car in good working order. Following basic service guidelines prevents small issues from turning into big problems over time and ensures that you and your family are safe.
Basic car maintenance starts with regular oil changes according to the intervals recommended in your car manual. Oil lubricates your engine and allows metal to press against metal without causing damage. Without oil, the metal-on-metal friction creates so much heat that eventually the surfaces weld themselves together and the engine seizes. Getting regular oil changes for your car can also serve as a reminder to inspect all the working parts. Certain parts of your car, like the tires and breaks, wear down over time. It is important to keep an eye on them to make sure they are working properly. As parts start to wear down they can affect the way your car runs, and waiting until a part is completely worn out can cause headaches and unnecessary breakdowns. Replacing worn out part regularly will help extend the life of your car significantly.
In addition to regular oil changes, following the recommended maintenance schedule in your vehicles owner's manual will help stretch out the life of your car. While it is easy to discount the need for service when your car is running fine, preventative maintenance can help find small problems before they become big problems.
Typically, vehicles are due for a regular service appointment around every 30,000 miles; however, keep in mind that your vehicle may have a different service schedule from another car (check your vehicles owner's manual for the recommended service schedule). Actual services vary based on the make/model of your vehicle and mileage on your car but some maintenance services are standard. At the 30,000-mile service appointment the fuel filter will be checked/swapped out and the coolant flushed and replaced. Additionally, the transmission fluid and power steering fluid is replaced; and the chassis and suspension will be inspected and lubricated. At the 60,000-mile mark, the spark plugs and ignition system are inspected, brake fluid is replaced, the wheel bearings are examined, and the battery is changed. The 90,000-mile service appointment usually involves similar services from previous appointments, along with inspection of the steering linkage, accessory drive belts, heat shields and exhaust system.
At all service appointments, service technicians will inspect your vehicle's oil filter, engine oil, brake pads, tires, and windshield wipers.
Even a well-maintained vehicle can experience an occasional breakdown. Mechanical breakdowns, lock outs, lost keys, and accidents can happen no matter how old, or new, your car is. Emergency roadside assistance plans can eliminate costly tows and cover expenses for lost keys or lockouts, running out of gas, and dead batteries. Purchasing a plan through Best Roadside Service includes benefits such as fluid top offs, fuel delivery, flat tire service, and lost key and lockout service. Additionally, with a quick call to an emergency hotline all your service provider needs can be located in one place, and with the right plan fast response times will eliminate wait time. One call to Best Roadside Service will have help on the way quickly with an average response time of just 34 minutes.
In a world where it seems like everything is made to be replaced, a vehicle is still a large investment. Protecting that investment with regularly scheduled preventative maintenance ensures that you keep your family safe, and that get your investment back by extending the life of your car.