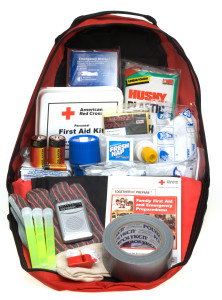 Is your emergency car kit well stocked? It is a question that needs to be asked of every driver, whether you are responsible for a personal vehicle or a fleet of commercial vehicles. To see the consequences of what can happen when an emergency car kit is not well stocked, you don't have to look very far into history. Remember the massive ice storm that hit Atlanta last winter, stranding thousands of motorists in their cars on the interstate for days? Yeah, we thought so. We remember it all too well, too. We at Best Roadside Service would like to remind you to always have a well stocked emergency car kit on hand. And, in case you don't know exactly what should be in your emergency car kit… well, we're here to help you there, too!
Is your emergency car kit well stocked? Well, for starters, let's take a look at some of the most important items to have on hand. To make it easier, we have put together a comprehensive list for you.
For yourself and your passengers:
A fully charged cell phone that features a camera (with a flash) and can double as a flashlight, if necessary. You should also keep an extra battery, as well as a working charger with a car adapter on hand. After all, what use is a cell phone if the battery is dead?
You should also keep a fully stocked basic first aid kit on hand in your vehicle at all times. You would be surprised at the number of times that you will find yourself using it. Keep in mind that you will need to replace or restock items as they run low or you run out.
Always have a pad of paper and a working pen on hand in your vehicle, as well as a comprehensive list of emergency contacts and phone numbers. This can help you in the event of an emergency to stay level headed and know exactly who needs to be called. In the unlikely event that you are unconscious at the scene, this can also give emergency workers a great idea of who to start calling.
It is also important to keep bottled water and nonperishable snacks in your vehicle, in the event that you and your passengers get stranded. Regularly check the expiration dates, and be sure to replace the items as they are used up or expire.
Have you ever been stuck without cash — and without immediate access to an ATM or anywhere that doesn't accept credit or debit cards (and yes, these places do still exist)? If so, you know first hand how stressful this situation can be. For this reason, we suggest always keeping cash in your emergency car kit. Small bills are best.
For Your Vehicle:
Jumper cables. Always keep jumper cables on hand, to give a weak battery a boost and get the vehicle started. These can be used to jump start your own vehicle, or to help another motorist who has been stranded.
A spare tire, lug wrench, and a jack. Always keep these tools on hand in case of a flat tire or blowout. Even if you use a roadside assistance plan, you will most likely need to provide your own spare tire.
A tire gauge. This simple tool can be used to quickly and accurately check the pressure in your tires, to make sure that they are filled to the manufacturer's specifications. This is especially important before starting out on a long trip or drive.
A set of basic tools such as a screwdriver, in case you need to tighten battery cables or changing out a headlight bulb.
It is also important to keep the season and the weather in mind when packing your emergency car kit. For instance, it would be helpful to have blankets, gloves, hats and portable hand warmers in the snow and the cold temperatures of winter. Conversely, the heat of summer will make you thankful that you have plenty of bottled water on hand.
No matter the season or what type of vehicle that you drive, a little preparation can go a long way when it comes to keeping you safe in an emergency or an accident. So, we ask again: is your emergency car kit well stocked? If you have any questions about the benefits of a well stocked emergency car kit, or if you would like to discuss the different roadside assistance options that are available to you, feel free to contact us. We are standing by to talk with you today!