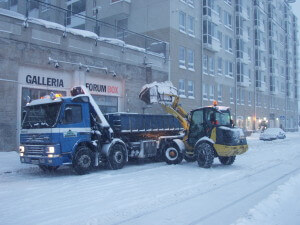 If you have ever operated a trucking company or a private fleet of trucks, you know all too well – and from personal experience – that your customers expect their products to be delivered 24 hours a day, 365 days a year… and with no exceptions. Your customers don't care that the weather is cold, or that the roads are frozen – they just want to know when they can expect your truck to arrive with their product.
While this may sound like an impossible feat to be tasked with, don't lose hope just yet. Fortunately, with a little preparation, you can keep your fleet moving all winter long. Here are 7 tips to keep your trucks moving in the cold:
Test your trucks' batteries regularly. Winter's brisk cold weather tends to drain the batteries in your truck faster than in other, milder months. Heavy duty trucks require serious, strong batteries. It is important to keep an eye on the age of your batteries, and replace those that are nearing the end of their life cycle before they run out of power. Also check for corrosion or loose cables. If the cables are loose, tighten the nut. If you see corrosion (you'll know if there is a white and powdery substance around the nodes of the clamp), consider replacing your battery. If you can't replace the battery, at least clean off the nodes with baking soda and water.
Check your trucks' antifreeze and coolant levels. Now is the time to closely inspect your trucks' cooling systems, including radiators, belts, and hoses. These inspections can help you to uncover any potential problems – before they occur.
Carefully inspect your trucks' tires, and be sure to keep them inflated to the proper point of inflation. The tires on your trucks will play a huge role in the performance of the truck during the winter. If you don't use snow tires during the winter, be sure to have snow chains nearby, easily accessible and ready for use. Make sure you have enough chains to cover your entire fleet.
Check your serpentine belt. The back of the belt has grooves, similar to those of a tire. If any of the grooves are cracked or worn, consider replacing the belt. Cold weather has been known to cause the belts to snap, leaving your truck stranded.
Check the windshield wipers on your trucks. Driver visibility is a crucial, but often overlooked, factor in keeping your drivers safe and moving on the road. Winter conditions, such as sleet or snow, can further inhibit a driver's ability to see the road clearly, which makes your wipers extremely important. Consider adding winter wipers to your fleet, which do a better job of pushing away winter moisture.
Make an emergency kit for your drivers. Stock your fleet with basic emergency supplies, just in case. Blankets, flashlights, bottled water, road flares, and a first aid kit can go a long way, when needed. It's always better to be safe than sorry.
Consider adding

commercial and fleet

roadside assistance to your fleet of trucks. Roadside assistance adds an additional layer of security to keep your trucks moving in the cold weather, ensuring that they stay on the road and can deliver your product to your customers – on time, every time.
Our team at Best Roadside Service offers you the most comprehensive, top of the line emergency roadside assistance plans custom designed to fit your fleet of vehicles. We understand the needs of your company, and understand that fleet vehicles break down from time to time. You want to be sure that you have your entire fleet, and your drivers, covered, regardless of what kind of emergency situation arises while on the road.
Whether your business has only a couple of trucks, or a fleet of several hundred vehicles, we want you to rest assured, knowing that when you are covered by Best Roadside Service, you and your drivers are never left alone out in the cold. Our plans provide comprehensive emergency care 24 hours a day and 7 days a week, coverage across the entire United States and Canada, more than 45,000 national providers, and an industry leading national average service time of only 34 minutes.
Give us a call or connect online with us to discuss the needs of your commercial fleet today!